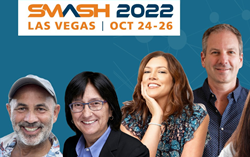 MALVERN, Pa. (PRWEB)
September 26, 2022
In its first year under the ownership of HMP Global, the Senior Care Marketing & Sales Summit (SMASH) has sold out its 2022 meeting, slated for October 24-26 in Las Vegas.
SMASH is the premier meeting for C-Suite sales and marketing executives within senior housing and post-acute care organizations looking to master strategies that capture market share and win customers. HMP Global, the world's largest healthcare event and education company, acquired the event in February, as part of its expanding senior care portfolio that includes the Senior Living Executive Conference and the Annals of Long-Term Care medical journal.
The SMASH event this year features more than 50 educational sessions over
…